Introduction to the 'bravoTALENT Jobs' page
The bravoTALENT jobs' page helps recruitment teams to hire the right candidates. Recruitment teams can manage and follow the jobs that you have published to the bravoTALENT job board, track the entire recruitment process to find the right candidate to fill in your vacant job positions!
The bravoTALENT Jobs' page begins with the status of all the Job postings:
Draft
Published
Closed
Finished
Click on any of your created jobs in the table to enter an overview page and see the full job description and details.
Use the search bar in the upper right corner to look up jobs. Search by name, categories or any information in the job posting.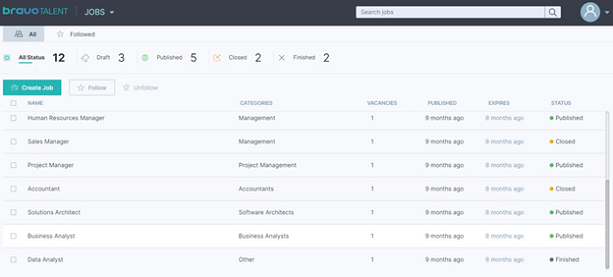 Products Feedback
We'd love to hear from you
Use this form to send us your comments.
* Indicates required field.