Our vision is become the leading talent management system that unlocks human potential for leading companies world-wide.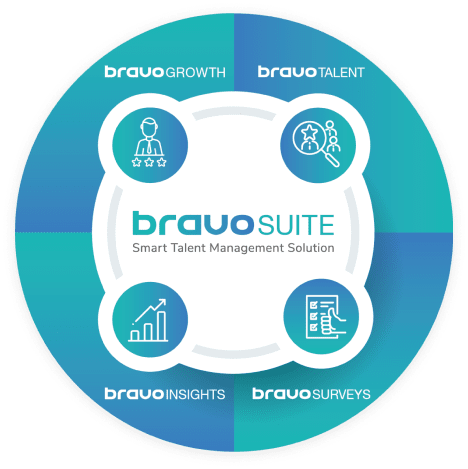 Bravo Talent Corporation was established in 2020 with headquarter in Ho Chi Minh City, Vietnam. With ties to one of the leading software outsourcing companies in Vietnam, Orient Software, our vision is to create a smart talent management solution for companies to transform their human resource management processes by empowering people.
Our solution bravoSUITE is a complete platform to manage processes related to employee reskill and upskill, recruitment processes and to make the right decisions based on insightful data.
VISION & MISSION
---
To become the leading talent management system that unlocks human potential for leading companies world-wide.
We believe that a business' full potential relies on the strengths of its employees. Hence, bravoSUITE provides a talent management system that helps employees explore their potentials, employers understand their employees and candidates, and create better leaders to drive business growth.
OBJECTIVES
Our Company Objectives
Exploring Strengths and Potential
Truly understand the motivation and strengths of your personnel with our personal reflection tool. Receive valuable data to provide the right training - increasing efficiency and productivity with bravoGROWTH.
Optimize Your Recruitment Process
Centralize and optimize your recruitment pipeline to match your job postings with the perfect candidate automatically in our all-in-one platform, saving time and reducing hiring costs with bravoTALENT.
Collect Valuable Insights
Collect valuable information with customized surveys and receive detailed reports in minutes with bravoSURVEYS.
---
Employee profiling
Leadership coaching and team training
Individual and team performance optimization
---
Centralize recruitment
Candidate management
Job board integration
---
Customize surveys to collect valuable data
Customize surveys to target external consumers
Receive desired amount of responses
---
In-dept reports
Advanced data analytics
Extensive Chart archive
WHY CHOOSE US
We provide
unique HR solutions
Expertise
We have a dedicated group of result-oriented and highly skilled leaders and developers. We've been partnering with well-known HR consultancy companies and leading professionals. Thus, we possess valuable insights in talent management to help enterprises discover and empower their workforce.
Transparency
It is our business ethic while working with customers. We are welcoming and friendly to our clients and deal with people in clear, direct way and always honest and fair in our dealings. We put your interests first. Always.
Customers Satisfaction
We are highly confident in our promise to serve you better. Our people are knowledgeable, dedicated, and professional, yet approachable. They are trained to deliver high quality services and assist clients and partners in every step of the process. Our focus is to build long-term relationships with our customers, not simply a single project.
Confidentiality
It is one of the most important aspects of our work. We guarantee the privacy of your information will not be printed, copied, or exported. Thus, all confidential data or personal data of our customers is strictly confined to our offices.