Introduction to the bravoTALENT candidates' page
The candidates' page shows all active and available candidates that have applied for one of your open jobs. Recruiters and Talent Acquisition teams can easily match their open jobs with the right candidate based on the candidates' experience, skills and interest/preference profile!
Talent pool
The platform also generates a talent pool, meaning that your company account will save profiles and CV of candidates who have previously applied to one of your open jobs. From the talent pool recruiters can easily find and match candidates with job openings from their internal talent pool.

IP/PP profiles
One way the bravoTALENT platform tries to distinguish from traditional recruitment platforms is with Interests and Preferences profiling.
Interests/Preferences profile is a personal reflection profile of employees to explore their true motivation and strengths.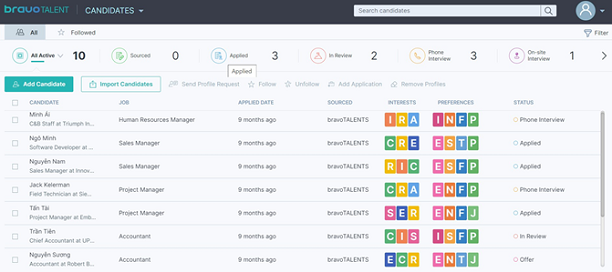 Products Feedback
We'd love to hear from you
Use this form to send us your comments.
* Indicates required field.